Impresora de la pantalla del globo para la venta
Descripción del producto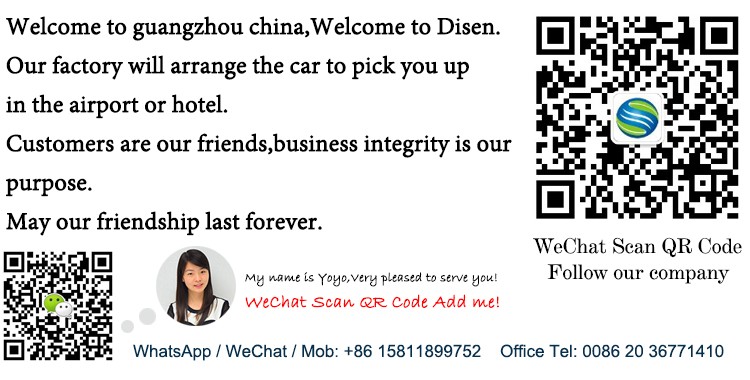 Customer First  Service First 

      
balloon screen printer details:
| | |
| --- | --- |
| Condition | New |
| Automatic Grade | Automatic |
| Color & Page | Single Color |
| Voltage | 220V |
| Gross Power | 0.75kw |
| Dimensions(L*W*H) | 550*800*1000mm |
| Weight | 150kg |
| Certification | TUV,Alibaba |
| Warranty | one year |
| Name | balloon screen printer |
| Pallet Size | 350*350mm |
| Max Printsize | 150*150mm |
| Printing products | balloon |
| Printing speed | 1800-2000Pcs/Hour |
| Applications | Stores, small factories |
| Color | white,green |
| Force | Pneumatic |
| Operation | easy operation |
| Controlling system | Pedal switch controlling system |
Pago y envío de términos:
| | |
| --- | --- |
| Minimum Order Quantity: | 1 Set/Sets |
| Port: | Guangzhou,Shenzhen,Hongkong |
| Packaging Details: | Wooden packaging,size:550*800*1000mm ,weight:150kg,It is suitable for by sea |
| Delivery Time: | three days |
| Payment Terms: | L/C,T/T,Western Union,MoneyGram,ESCROW,Paypal |
| Supply Ability: | 1000 Set/Sets per Month |
aplicaciones de la impresora de pantalla de balón:
La máquina se utiliza para la impresión en globo letax.
ventajas de la impresora de pantalla de balón:
1, menor consumo eléctrico, alta efectividad y fácil operación.
2, construcción de movimiento lineal
3, confiables partes eléctricas y neumáticas
3, sistema de control del interruptor de pedal
4, los trabajos del enjugador en dos modos: tope delantero y posterior parada
parámetro técnico de la impresora de la pantalla del globo
Max Printsize: 150 * 150mm
Tamaño de plataforma: 350 * 350mm
Voltaje: 220V, 50Hz, 0. 75KW
Velocidad de impresión: 1800-2000Pcs/hora
Dimensión: 550 * 800 * 1000 m m
Customer First Service First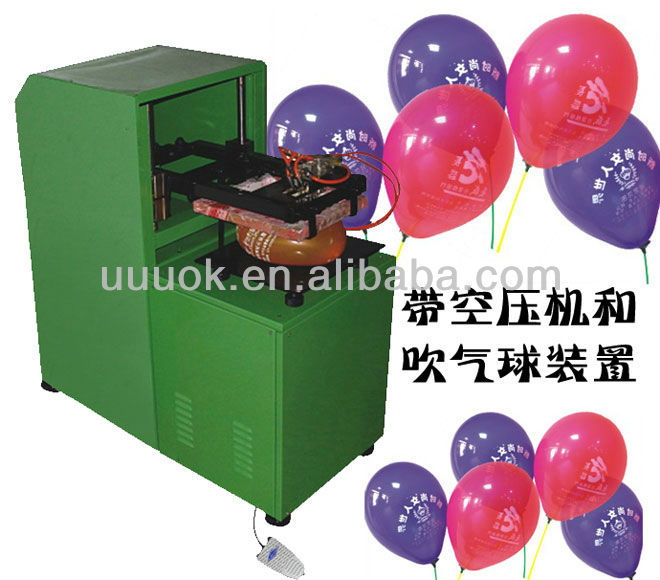 balloon screen printer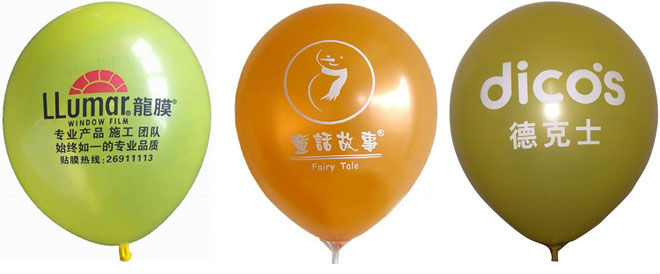 balloon screen printer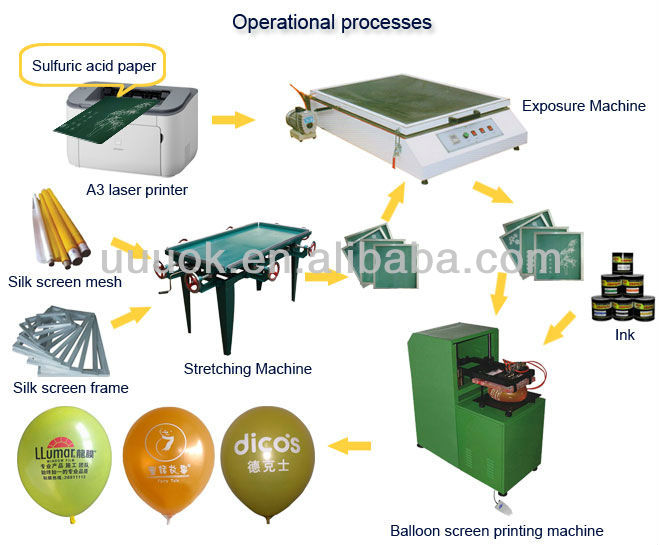 balloon screen printer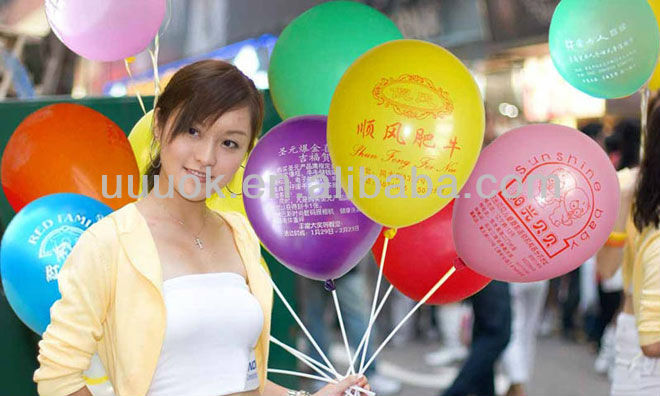 balloon screen printer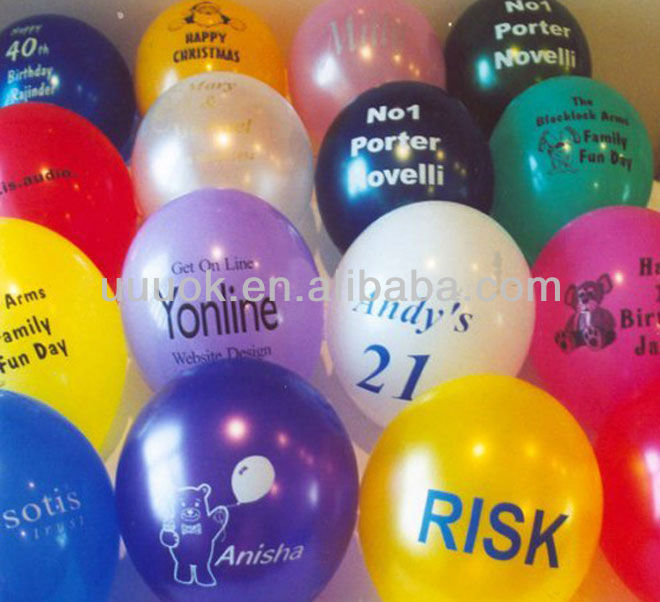 balloon screen printer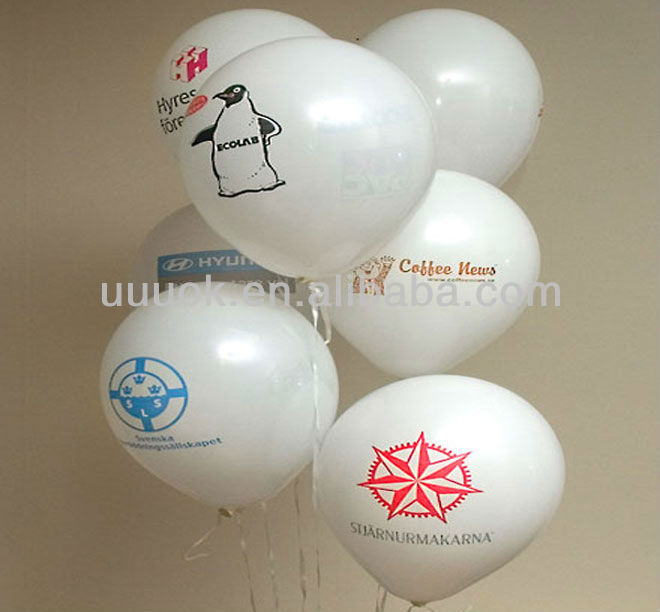 balloon screen printer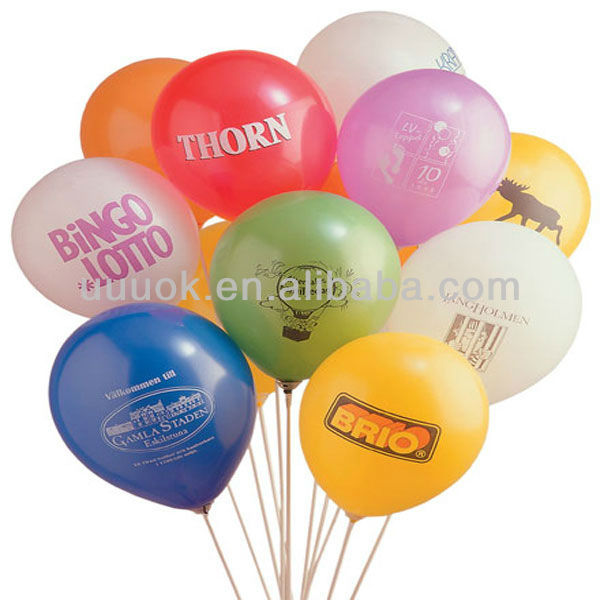 balloon screen printer
Customer First Service First         

 
Screen printing is a printing technique that uses a woven mesh to support an ink-blocking stencil. The attached stencil forms open areas of mesh that transfer ink or other printable materials which can be pressed through the mesh as a sharp-edged image onto a substrate. A fill blade or squeegee is moved across the screen stencil, forcing or pumping ink into the mesh openings for transfer by capillary action during the squeegee stroke.
Screen printing is also a stencil method of print making in which a design is imposed on a screen of polyester or other fine mesh, with blank areas coated with an impermeable substance, and ink is forced into the mesh openings of the mesh by the fill blade or squeegee and onto the printing surface during the squeegee stroke. It is also known as silkscreen,serigraphy, and serigraph printing. You can also have more than one colour printing, for example you could have a striped printing.
Printing technique
Before printing occurs, the frame and screen must undergo the pre-press process, in which an emulsion is 'scooped' across the mesh and the 'exposure unit' burns away the unnecessary emulsion leaving behind a clean area in the mesh with the identical shape as the desired image. The surface (commonly referred to as a pallet) that the substrate will be printed against is coated with a wide 'pallet tape'. This serves to protect the 'pallet' from any unwanted ink leaking through the substrate and potentially staining the 'pallet' or transferring unwanted ink onto the next substrate. Next, the screen and frame are lined with a tape. The type of tape used in for this purpose often depends upon the ink that is to be printed onto the substrate. These aggressive tapes are generally used for UV and water-based inks due to the inks' lower viscosities. The last process in the 'pre-press' is blocking out any unwanted 'pin-holes' in the emulsion. If these holes are left in the emulsion, the ink will continue through and leave unwanted marks. To block out these holes, materials such as tapes, specialty emulsions and 'block-out pens' may be used effectively.
The screen is placed atop a substrate. Ink is placed on top of the screen, and a floodbar is used to push the ink through the holes in the mesh. The operator begins with the fill bar at the rear of the screen and behind a reservoir of ink. The operator lifts the screen to prevent contact with the substrate and then using a slight amount of downward force pulls the fill bar to the front of the screen. This effectively fills the mesh openings with ink and moves the ink reservoir to the front of the screen. The operator then uses a squeegee (rubber blade) to move the mesh down to the substrate and pushes the squeegee to the rear of the screen. The ink that is in the mesh opening is pumped or squeezed by capillary action to the substrate in a controlled and prescribed amount, i.e. the wet ink deposit is proportional to the thickness of the mesh and or stencil. As the squeegee moves toward the rear of the screen the tension of the mesh pulls the mesh up away from the substrate (called snap-off) leaving the ink upon the substrate surface.
There are three common types of screenprinting presses. The 'flat-bed', 'cylinder', and the most widely used type, the 'rotary'.
Textile items printed with multi-colour designs often use a wet on wet technique, or colors dried while on the press, while graphic items are allowed to dry between colours that are then printed with another screen and often in a different color after the product is re-aligned on the press.
Most screens are ready for recoating at this stage, but sometimes screens will have to undergo a further step in the reclaiming process called dehazing. This additional step removes haze or "ghost images" left behind in the screen once the emulsion has been removed. Ghost images tend to faintly outline the open areas of previous stencils, hence the name. They are the result of ink residue trapped in the mesh, often in the knuckles of the mesh (the points where threads cross).
While the public thinks of garments in conjunction with screenprinting, the technique is used on tens of thousands of items, including decals, clock and watch faces, balloons, and many other products. The technique has even been adapted for more advanced uses, such as laying down conductors and resistors in multi-layer circuits using thin ceramic layers as the substrate.
Versatility
Screenprinting is more versatile than traditional printing techniques. The surface does not have to be printed under
pressure, unlike etching or lithography, and it does not have to be planar. Different inks can be used to work with a
variety of materials, such as textiles, ceramics, wood, paper, glass, metal, and plastic. As a result, screenprinting is
used in many different industries, including:
Balloons
Clothing
Decals
Medical devices
Printed electronics, including circuit board printing
Product labels
Signs and displays
Snowboard graphics
Textile fabric
Thick film technology
Screen printing press
To print multiple copies of the screen design on garments in an efficient manner, amateur and professional printers usually use a screen printing press. Many companies offer simple to sophisticated printing presses. Most of these presses are manual. A few that are industrial-grade-automatic printers require minimal manual labor and increase production significantly.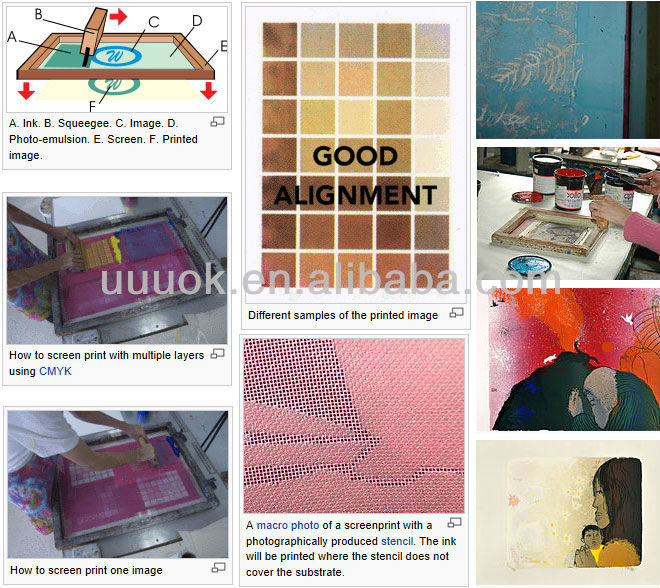 Analysis of screen printing trends and prospects
screen printing market space
China from the 20th century, 80 years, the speed of screen printing materials, equipment, technology research and development, so that screen-printing with flexo printing, offset printing, gravure played an advantage in competition. Rate of 7% annual increase. Currently there are about More than 70% of the wide format color screen printing with spot-color printing, nearly 30% using four-color overprint, and the proportion of four-color overprint is still increasing steadily. Industry survey showed that 70% of the annual output value of enterprises 100 million. But China's current total output value of the printing screen printing production value less than 2%, which have great potential to be tapped and broad development prospects.
The next screen printing will remain a high growth rate will gradually increase the technical, industrial scale will be further expanded. Authorities predicted that the future world production of screen printing in the printing share of GDP will rise to 10%. There is no doubt that China Screen Printing Industry is being nurtured the development of a larger space and potential market. Expected that by 2005 China will become the world's largest screen printing market. China screen printing in the future will be depth and breadth. "Deep" is to a higher level of development, international screen printing industry has long been widely used in computer design, plate making, carving and other advanced electronic technology, and our country for these new technologies are still in the research trial stage; "well" is the development of new screen printing products, such as outdoor advertising and other large-scale screen printing.
screen printing applications
Survey shows that China Screen Printing Industry and the number of kinds of products sorted by manufacturers as follows:signs and panels, textiles and garments, plastic sheets, advertising materials, printed circuits, light boxes and so on.Emerging field of screen printing to an extraordinary rate, such as building materials, the system card, CD-ROM, security printing and so on.
1. Ad print
Screen Printing in commercial advertising, there will be more market, some large companies, especially electric companies,tobacco companies promote their image in order to attach great importance to the role of advertising. Advertising time and to some extent determine the quality of the company's share of the market. Therefore, all kinds of electrical advertising,packaging and advertising, outdoor advertising, commercial ads to screen printing provides a broad space. In the commercial competition, because the large-scale outdoor advertising a wide field of vision, effective and taken seriously. So, as our screen printing large color outdoor ads along with the development of commercial advertising, the increasing volume showed large, cheap, colorful, save a long period, and fast delivery advantages, more and more cities are planning departments,advertising approved by regulatory agencies, attracting a lot of advertisers.
2. Packaging and Printing
Packaging industry is the main service screen printing industry, target, screen printing technology continues to develop applications, will better serve the packaging and decoration industry, for packaging and decoration industry, while contributing to a more prosperous, but also for silk screen printing industry.
Customer First Service First        

 
Grupos de Producto : Impresora > Máquina de impresión de pantalla